Bookmates is a Manitoba based not-for-profit organization, established in 1984.
We develop, deliver and offer training in a variety of inter-generational early literacy programs to enhance the learning of both children and adults. We support parents and caregivers in their roles as their children's first teachers, and help to prepare children for success as they enter the school years. Our programs are ideal for use in schools, child care and family resource centres, libraries and other organizations that work to support families with young children.
We also offer a range of professional development workshops on current early childhood development and family literacy topics for service providers who work with families and young children.
Board Members
We are fortunate to have dedicated volunteers with a wide variety of expertise and experience providing leadership and supporting our work. We are grateful for their commitment.
Marilyn MacKinnon – Chairperson
Zaid Mohammed – Past Chairperson
Catherine Skene – Finance Chair
Danielle Barchyn – Secretary
Tracy Douglass
Theresa Morgan
Jennifer Pawluk
Beverley Zakaluk, B.A. B.Ed. MEd. Ph.D – Honourary Life Member (2015-2022)
Staff
Monica Dinney, Executive Director
Monica has an extensive background working with a variety of non-profit organizations in Winnipeg. Her experience includes program development and management, donor relations, fundraising, community granting, event planning, and working with Boards and volunteers.
She obtained the internationally recognized Certified Fundraising Executive (CFRE) credential in 2006 and holds a Bachelor of Arts Degree from the University of Winnipeg.
Monica is an active community volunteer, and has served on various Boards and committees. She is a member of the Association of Fundraising Professionals, currently serving on the Professional Development Committee and is a past Chair of National Philanthropy Day.
An avid reader with a love of languages, Monica is dedicated to the values and principles of literacy, education and lifelong learning opportunities.
Rhea dela Cruz, Office and Program Administrative Assistant
Rhea holds a degree in Business Management, and has years of experience in office administration including payroll, accounts, database management and publishing programs. Previously she worked for an international private pre-school, supporting teachers and administrators.
Ashley Huot, Program Trainer
Ashley is passionate about community development, community arts, and supporting life-long learning. Through her work with social service agencies, arts organizations, and school divisions she has led and participated in developing enriching, accessible programs for early learning, child and youth, and adult learning that support life skills while promoting wellness, literacy, and fostering resilient communities. Ashley further supports this work through her volunteer roles held with organizations and committees in Winnipeg. She received her Bachelor of Fine Arts in Art and Design from the University of Alberta and is currently pursuing a Masters of Library and Information Studies.
Nancy Tovell, Program Coordinator
Nancy has a wide range of experience in facilitating workshops with a focus on sharing strategies, tools and resources to support those working with families and young children. She graduated from the University of Manitoba with a Bachelor of Commerce (Honours) degree and spent several years travelling five continents and collecting a million special memories. Included in these memories are working with early childhood education programs in London, England and creating other spontaneous "language sharing and literacy" sessions from Egypt to South Africa. She enjoys volunteering at her daughters' schools and their many extracurricular activities.
Lauren Zanewich, Program Trainer
Lauren has over 15 years of experience in the early childhood development field. After completing her diploma in Early Childhood Education, she began her career at the UWSA Daycare. Over the years she has worked with hundreds of children and their families, supporting their development through a play-based curriculum, helping them to foster a love for literacy, and creating lasting connections. She is passionate about child development, literacy and supporting lifelong learning. Lauren loves to read, and further her knowledge by participating in courses and workshops relevant to early years learning. She enjoys spending time playing and exploring with her two young daughters, travelling, and being active outdoors.
Partners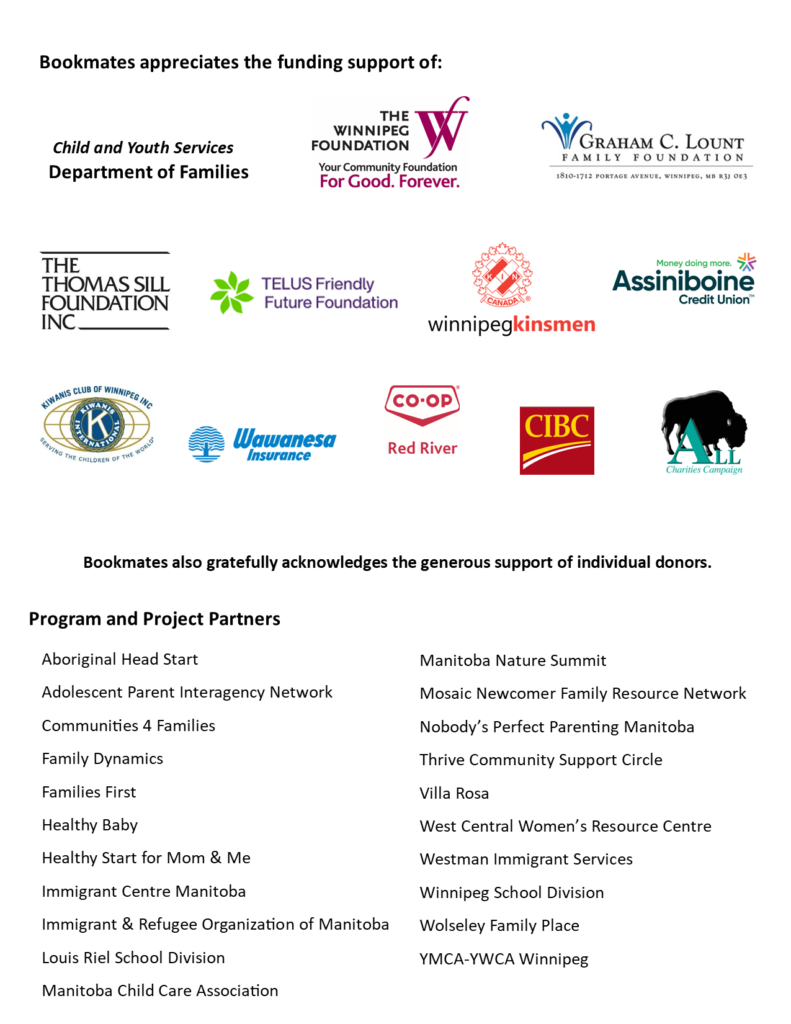 How You Can Help
Make a donation – in honour of an achievement, to recognize a special occasion or as a memoriam tribute. Tax receipts available for donations of $10 or more.
Host your own event to raise funds for family literacy. We recognize and appreciate the time and energy involved in organizing a fundraising event, and welcome your ideas and support. Please give us a call to discuss your idea.
Book club members – help encourage your own love of reading in young children through supporting family literacy programs as your charity of choice.
Serve as a volunteer Board Member or committee member.
Volunteer your time in our office, or with a program in the community.
Click here to go to our donations page.
Please contact us if you are interested in learning more about these opportunities. We appreciate your support.
Awards and Recognition
2019 Family Learning Award
Bookmates' 2019 Family Learning Award was presented to Sharron Arksey for her contributions to supporting family literacy in Manitoba. Sharron recently retired from the position of Coordinator for the Healthy Child Coalition-Central Region, and has been involved with early literacy and parent-child programming for over 30 years.
2018 Family Learning Award
Bookmates' 2018 Family Learning Award was presented to Marie Bouchard in recognition of her many contributions to promoting and supporting early learning and literacy and ensuring that families have access to innovative, culturally relevant learning opportunities for their children.
2018 Manitoba Child Care Association's "Friends of Child Care" Award
We are honoured to be the recipient of the 2018 Manitoba Child Care Association's "Friends of Child Care Award" in recognition of our partnership for events and professional development workshops that enhance the development of quality early child care as a service and profession. The award was presented on May 25, 2018 at the "A Few of Our Favorite Things" conference.
2017 Family Learning Award
Bookmates' 2017 Family Learning Award was presented to Karen Houdayer, Professional Development Manager for the Manitoba Child Care Association, in recognition of her outstanding dedication and many contributions to early learning. She is passionate about bringing literacy opportunities to the members of MCCA and values the partnerships she has nurtured in the community.
Spirit of Winnipeg Awards
Bookmates was honoured to be a finalist for the 2014 Winnipeg Chamber of Commerce Spirit of Winnipeg Awards in the Charity category. Each year these awards recognize innovative organizations and businesses for their contributions in making Winnipeg a better place to live.
This year marks our 30th anniversary of supporting parents and young children with the development of early learning and literacy skills, and we are pleased to be acknowledged for our work through these prestigious community awards.
2012 Lieutenant Governor's Medal for Literacy
Bookmates was pleased to nominate Karen Davis for the 2012 Lieutenant Governor's Medal for Literacy. She received this honour on April 26 at a special ceremony at Government House in Winnipeg. The medal was awarded for her inspirational work encouraging literacy initiatives in Aboriginal communities, in particular the Imagination Library that brings books into the hands and homes of pre-school children. Bookmates is proud to work together with Karen to bring literacy programs to more communities across Manitoba.
Sharing the Flame Certificate
Bookmates Alphabet Soup program received the sharing the flame certificate of recognition as a Recognized Program in Health and Learning for 2009 from the Canadian Council on Learning.
Dietitians of Canada Regional Award
Bookmates Alphabet Soup Program was the 2006 recipient of the Dietitians of Canada Regional Award. This program was developed with the community in partnership with the Winnipeg Regional Health Authority through the support of The Winnipeg Foundation.
Vision, Mission and Values
Vision:
All families and their communities experience the joy and benefits of literacy.
Mission:
To develop and deliver early years programs and training to build and support the foundations of literacy and learning.
Values:
Respect
We honour the strength and knowledge of individuals and communities.
We believe parents are their children's first and most important teachers.
Inclusivity
We build upon the diverse literacy practices of families and communities.
Collaboration
We actively involve parents, families and community organizations as partners in the development of our programs.
We build and sustain partnerships and support networks to address literacy issues.
Lifelong Learning
We recognize that positive early years experiences are critical foundations for creating lifelong learners.
We inspire families to experience and enjoy learning together through our activities.
Best Practices
We are committed to ongoing reflection and learning.
We ensure quality programs through:
– adaptation and alignment of content with research-based evidence
– continuous evaluation and feedback
History
Bookmates is a Manitoba based not-for-profit organization, established in 1984. For over 38 years we have proudly promoted and supported family literacy in communities across the province and beyond in partnership with a wide variety of groups and organizations. We are the only non-profit organization in Manitoba focussed solely on providing family literacy services.
Early Years
Bookmates/Reading Partners was created through the inspiration and vision of Dr. Beverley Zakaluk, professor in the Faculty of Education at the University of Manitoba.
Funded by Winnipeg's Core Area initiative, the project matched volunteers – mainly university students – with children living in the inner city for trips to the library to encourage and support the love of reading and help familiarize families with available community resources.
In 1984, Bookmates/Reading Partners was incorporated as a registered charitable organization
Early programs included Building Language at Story Time (BLAST) in 1984 and Book Bridges in 1990. Supported by the Junior League of Winnipeg, Book Bridges was developed in partnership with the Immigrant Women's Employment Service and the Women's Counseling Service.
These programs signaled a shift from children-only programming to an interactive, intergenerational design, increasing parents' awareness of the importance of reading to and with their children.
Growth and Expansion
Bookmates/Reading Partners' second decade focused on strengthening and modifying existing programs to meet changing community needs. In partnership with Lord Selkirk School Division, a Family Reading Club was created to provide teacher workshops as well as family programming, with a focus on engaging young readers. A "train the facilitator" model was adopted, where Bookmates staff guides community workers and parents toward the skills and knowledge needed to build family literacy capacity in their communities. This model continues to be a Bookmates' cornerstone.
In 2000, the provincial government implemented the Healthy Child Manitoba (HCM) Strategy, a network of programs and supports for children, youth and families. Bookmates is a key contributor to the early years portion of the strategy, offering family literacy training across the province in partnership with regional Parent Child Coalitions.
Also that year, Bookmates/Reading Partners officially changed our name to Bookmates and continued our increasing focus on parent-child programming.
One of our programs, Alphabet Soup, was the 2006 recipient of the Dietitians of Canada Regional Award. Developed with the community in partnership with Winnipeg Regional Health Authority, it also received a Sharing the Flame Certificate of Recognition as a recognized program in health and learning for 2009 from the Canadian Council on Learning.
Thanks to talented local writers and illustrators, Bookmates self-published five books between 2006 and 2008. A First Counting Book in Swampy Cree and English; Watch Your Step: A Black and White Book for Babies in English, Ojibwe and Cree; and Kinipan na, in three languages plus phonetics, encourage dual and home-language development. Kookum and Me and Pepere Played the Fiddle are important additions to a culturally appropriate library for preschoolers.
In July 2009, Bookmates transitioned to a new fully functional, independent space on Erin Street. Previously, the City of Winnipeg generously had provided low cost space, mainly in Winnipeg Public Libraries.
Highlights
Our recent endeavours include continued early literacy program development and new community partnerships to support learning in the early years.
We offer a series of skills development workshops for service providers who work with families and young children to assist them integrate early literacy and learning activities and resources in their programs. The workshops are based on current themes related to family literacy and early childhood development such as active play, connecting with nature, screen time and more.
We were pleased to receive the 2018 Manitoba Child Care Association's Friends of Child Care Award for our services supporting the work of early childhood educators.
In 2014, we were honoured to be a finalist for the Winnipeg Chamber of Commerce Spirit of Winnipeg Awards in the Charity category. These annual awards recognize innovative organizations and businesses for their contributions in making Winnipeg a better place to live.
In 2012, the Very READ-y Project was launched. Over its six-year span, this collaborative family literacy initiative supported the early learning community and families in Winnipeg's Point Douglas neighbourhood. With the generous support of The Winnipeg Foundation, we worked to increase school readiness by offering young children and their families an array of focused speech, language and literacy programs and activities.
We subsequently engaged in a similar two-year project in Downtown Winnipeg in from 2018 to 2020, working together with a variety of community partners to address the significant issue of school readiness by offering information, tools and resources for parents, caregivers and early learning practitioners.
Into The Future
We continue to build partnerships with a wide variety of community organizations including family resource centres, libraries, child care centres, school-based early years programs, public health providers and other family serving agencies to build our collective capacity to reach and support more children with the development of foundational learning skills.
In response to diverse community needs, we engage with our partners in ongoing review and renewal of our family literacy programs and training.
We look forward to continuing to support parents as their children's first teachers, developing new workshops and programs, and promoting the importance of early literacy to fulfill our vision that "all families and their communities experience the joy and benefits of literacy".